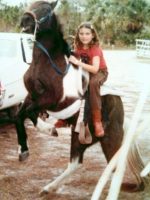 Assistant to Dan Stanhoff
Assistant to Leo and Laura Koski
Cell: (561) 701-4565
The photo was taken in the 70's when EVERYTHING was dirt, and I use to ride my pony all the way to Indiantown Road. I enjoyed growing up in the Farms, and all the fond memories including ones that are still being established. We are surrounded by state parks and preserves, yet city convenience, beaches, restaurants and malls are only a short drive. The rural feel remains strong.
I actively assist my husband, Dan, and brother, Leo, broker owner, and his wife, Laura, with their clients. You receive a hard working, ethical team when working with us. One of our priorities is to establish a relationship with our clients giving us insight to various wants, needs and more. We strive to reply promptly throughout the whole process of buying/selling a home or lot and renting. We are committed to our clients for life!
We travel throughout Palm Beach and Martin counties to make your dream of owning a home come true if a first time buyer or purchasing as a seasoned home owner. Our marketing department specializes in online advertizing to promote your home or lot if selling to receive the highest traffic of lookers as possible. This also allows us to send home or lot buyers new listings the moment they hit the market.
Please feel free to call, text or email anytime. We look forward to working with you!
"Trust in the Lord with all your heart, and lean not on your own understanding. In all your ways acknowledge Him, and He shall direct your paths." Proverbs 3:4-5