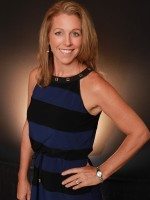 Realtor
Office: 561-306-9967
Cell: (561) 306-9967
16891 Jupiter Farms Rd, Suite 1
Jupiter Farms, FL 33478
My career in Real Estate started in 2002 for a large Real Estate franchise in North Idaho as the Director for Business Development and Relocation. I quickly grew the department, as the need became apparent for a more personal touch when relocating from either out of state or just around the block. This beginning gave me a strong customer service back ground and also really gave me a sense for what customers needed as I helped them through the process of moving into a new home and a new area. I later became a Realtor and implemented this knowledge in my own business to become a multi-million dollar producer.
I became a licensed as a Realtor in Florida in 2008, and knew this was the place for me! My family and I moved to Jupiter knowing the importance of great schools and seeing the opportunities for our children but also to enjoy the beautiful beaches, boating, sun, and yes still a little country living.
My husband, Leo (former broker/owner Jupiter's Best Realty) and I have four children ranging from 7-25 years old that have attended all the local schools and participate in the local sports programs. We know the importance of family and community and enjoy all that Jupiter has to offer.
From beaches and boating to acreage and equestrian properties, Florida has it all and we look forward to helping you with your next move!